ARTCORE ISSUE #25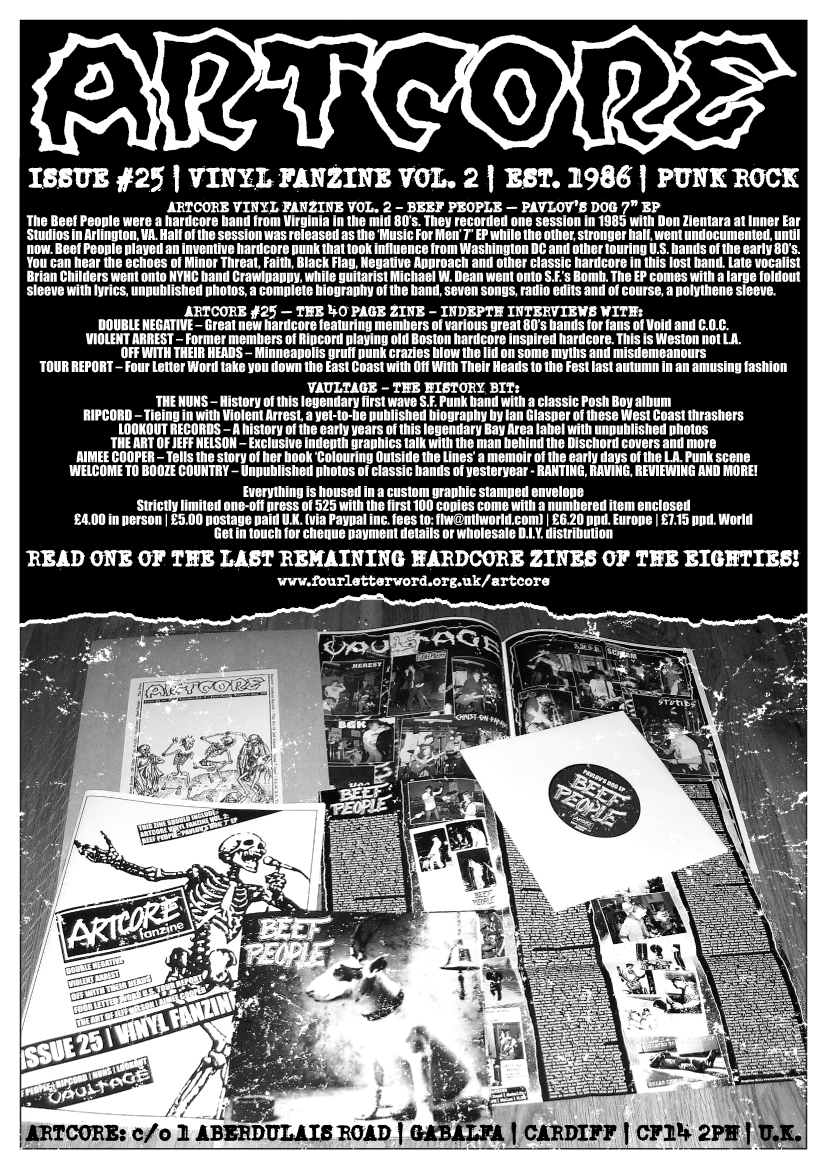 SOLD OUT


ARTCORE VINYL FANZINE VOL. 2 - BEEF PEOPLE – PAVLOV'S DOG 7" EP:
The Beef People were a hardcore band from Virginia in the mid 80's. They recorded one session in 1985 with Don Zientara at Inner Ear
Studios in Arlington, VA. Half of the session was released as the 'Music For Men' 7" EP while the other, stronger half, went undocumented, until now. Beef People played an inventive hardcore punk that took influence from Washington DC and other touring U.S. bands of the early 80's. You can hear the echoes of Minor Threat, Faith, Black Flag, Negative Approach and other classic hardcore in this lost band. Late vocalist Brian Childers went onto NYHC band Crawlpappy, while guitarist Michael W. Dean went onto S.F.'s Bomb. The EP comes with a large foldout sleeve with lyrics, unpublished photos, a complete biography of the band, seven songs, radio edits and of course, a polythene sleeve.
ARTCORE #25 – THE 40 PAGE ZINE - INDEPTH INTERVIEWS WITH:
DOUBLE NEGATIVE – Great new hardcore featuring members of various great 80's bands for fans of Void and C.O.C.
VIOLENT ARREST – Former members of Ripcord playing old Boston hardcore inspired hardcore. This is Weston not L.A.
OFF WITH THEIR HEADS – Minneapolis gruff punk crazies blow the lid on some myths and misdemeanours
TOUR REPORT – Four Letter Word take you down the East Coast with Off With Their Heads to the Fest last autumn in an amusing fashion
VAULTAGE:
THE NUNS – History of this legendary first wave S.F. Punk band with a classic Posh Boy album
RIPCORD – Tieing in with Violent Arrest, a yet-to-be published biography by Ian Glasper of these West Coast thrashers
LOOKOUT RECORDS – A history of the early years of this legendary Bay Area label with unpublished photos
THE ART OF JEFF NELSON – Exclusive indepth graphics talk with the man behind the Dischord covers and more
AIMEE COOPER – Tells the story of her book 'Colouring Outside the Lines' a memoir of the early days of the L.A. Punk scene
WELCOME TO BOOZE COUNTRY – Unpublished photos of classic bands of yesteryear - RANTING, RAVING, REVIEWING AND MORE!
Everything is housed in a custom graphic stamped envelope.