ARTCORE ISSUE #26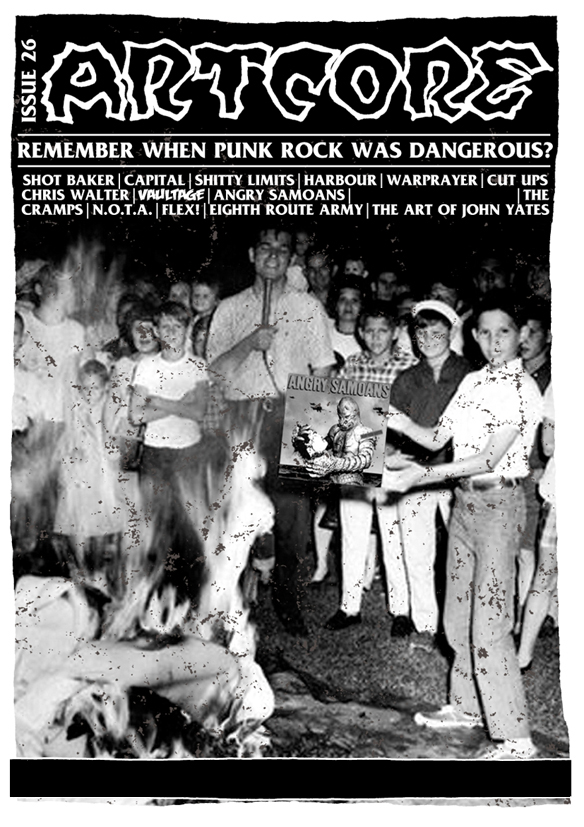 FANZINE WITH CD IN FOLDOUT SLEEVE

ARTCORE FEATURES INTERVIEWS WITH:
SHOT BAKER – Current purveyors of the classic Chicago punk sound.
CAPITAL – Long Island, NY's melodic and passionate hardcore outfit.
SHITTY LIMITS – Beware the Limits, beware the Misfits, beware the hype?
HARBOUR – Cardiff's newest emotional melodic hardcore band.
WARPRAYER – Bristol's doom-laden crust exponents get down'n' dirty.
CUT UPS – Exeter's catchy punk singalong band tells all.
CHRIS WALTER – The Vancouver punk author reveals the hidden truth.
VAULTAGE HAS INDEPTH BIOGRAPHIES WITH:
ANGRY SAMOANS – Legendary L.A. punks who shocked and offended.
THE CRAMPS – Seminal primitive garage rockers honoured.
N.O.T.A. - Tulsa, Oklahoma's 80's hardcore unit take away your rights.
FLEX! - Burkhard Jaerisch's phone book sized hardcore discography.
EIGHTH ROUTE ARMY – Enigmatic Massachusetts 80's punk troupe.
JOHN YATES – Ex-pat now influential S.F. graphic designer interviewed.
ALSO IN THIS ISSUE:
'The Daily Terrorgraph' tells it like it is, or possibly isn't.
'Welcome to Booze Country' hosts some unearthed live shots.
'Off the Beaten Tracks' shines light on some ancient wax slabs.
As well some of the usual rantin' 'n' 'ravin' 'n' reviewin' and a CD by an old band.
All crammed into 36 oversized SRA4 pages.