NEW ISSUE OUT NOW! CLICK THE IMAGE TO GO TO BOSS TUNEAGE...


IN THE UK / EU ORDER FROM BOSS TUNEAGE / IN THE US ORDER FROM DISCOGS
SOCIAL MEDIA (FB) / REVIEWS (WORDPRESS) / VIDEOS (YOUTUBE) LINKS ABOVE
BACK ISSUES (SOLD OUT)...
ARTCORE ISSUE #40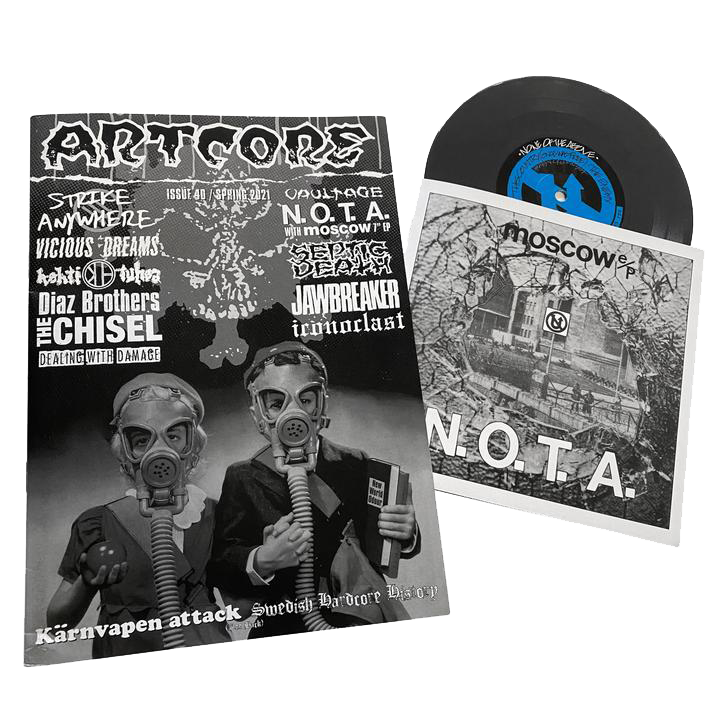 ARTCORE FANZINE ISSUE 39 WITH MYDOLLS 7" EP

ARTCORE 39

In this issue of the long running UK punk zine you'll find in depth interviews with legendary UK punks SUBHUMANS, LA's TOTAL MASSACRE, Amsterdam's OPEN WOUNDS, South Wales' DRUNKEN MARKSMAN, The North East's TIED DOWN and London's GAME. While the historical 'Vaultage' section of the zine features interviews with original LA punk zine FLIPSIDE, London anarcho post-punks PART 1 and Stoke's EXIT CONDITION. On top of this are the articles: 'Death to the Sickoids' a 10,000 word history of Canadian punk in the 70s and 80s, 'Punks in Parkas' on the '79 mod revival by ace face Neil Cox (Shutdown, Thirty Six Strategies, Diaz Brothers) and 'Ragin' Full On In Early 80s Southern California' featuring the hardcore memoirs of Andy Nystrom (Sorex, There's Something Hard In There). There are also over 100 reviews and zero advertising, all jammed into 40 litho printed A4 pages.

MYDOLLS 7"

This three song 7" featuring 'Nova Grows Up', 'The/Rapist' and 'In Technicolor' is an enhanced reissue with new artwork of the Mydolls 1981 debut release on C.I.A. Records (run by Linda of the band along with her husband U-Ron Bondage of REALLY RED). From Houston, Texas, this male-backed feminist art-punk four piece followed their own path, creating a unique post-punk sound that would've fitted right in on Rough Trade's roster of bands of the day alongside THE SLITS and THE RAINCOATS. The band travelled to London not longer after this 7" was released in 1982 to promote the record and were interviewed by John Peel. They went onto release another 7" and a mini-album in the 80s, appeared in Wim Wenders' film Paris, Texas, as well as playing gigs along side touring bands like MINOR THREAT, THE CRAMPS and SIOUXSIE AND THE BANSHEES, as well as locals BIG BOYS, REALLY RED and THE DICKS. The 7" (with some additional audio) comes on green/grey marble vinyl and is housed in an eight page lyric and photo booklet.

Distros please contact Artcore for wholesale rates. Thanks for supporting DIY punk rock.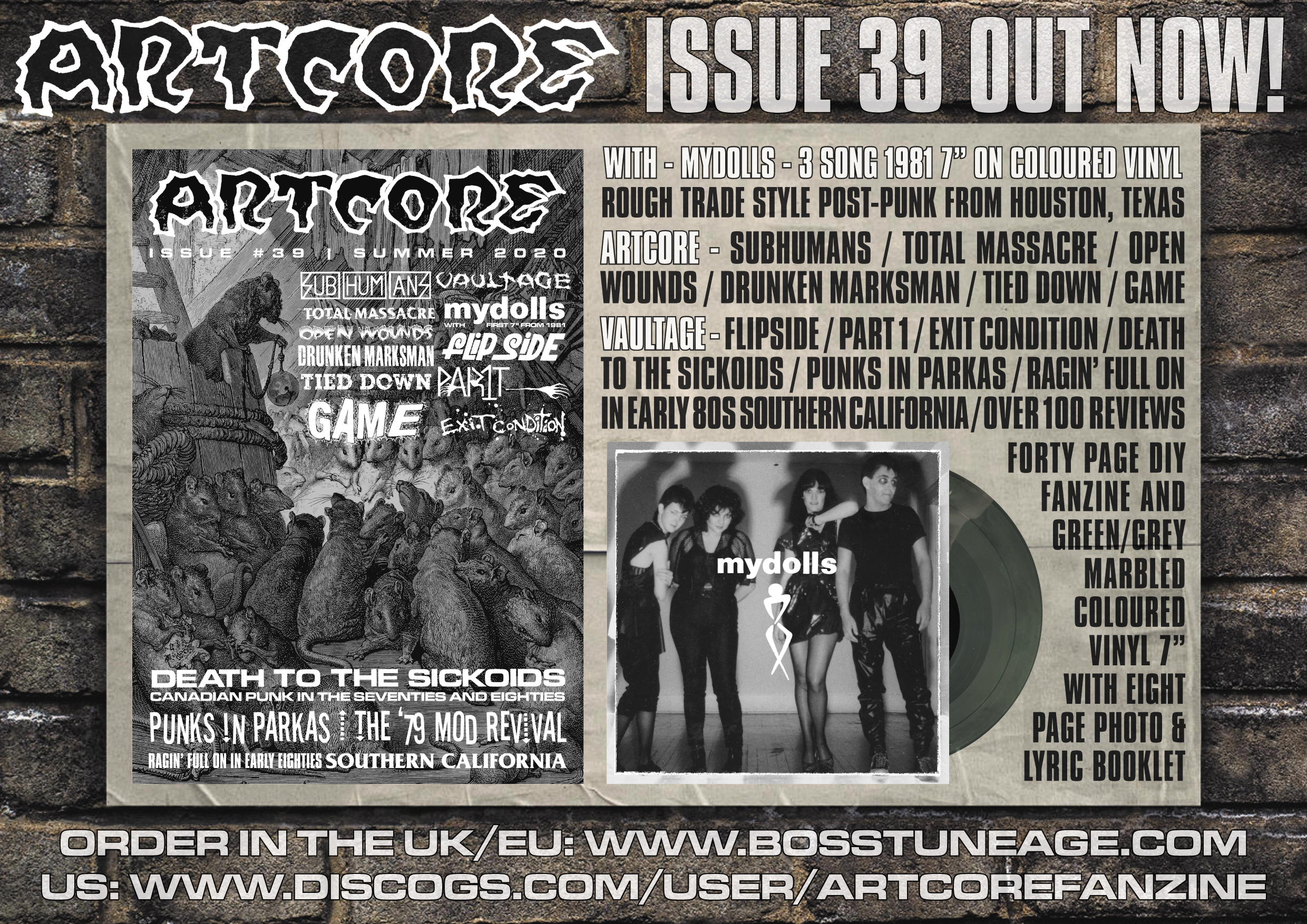 ARTCORE FANZINE ISSUE 38 WITH NEUROOT 'NAZI-FREI' 7" EP - LAST COPIES

Dutch hardcore masters of the 80s back with a new 7" the 'Nazi-Frei' (Nazi Free) EP. Two brand new songs including the anti-fascist anthem title track, two re-recorded NEUROOT 80s blasters and one cover of a 1977 Dutch punk classic, totalling five songs on ultra super limited 'brown note' marble vinyl in a foldout sleeve with lyrics and art.

Artcore has a raging roster of current band interviews with NEUROOT to accompany the 7" EP, Washington DC's RED DEATH, Edmonton's NO PROBLEM, Toronto's UGLY POP RECORDS, Sheffield's RAT CAGE, London's STAGES IN FAITH and Madrid's ACCIDENTE. The VAULTAGE section of the zine has an overview of 70s/80s punk in the Mid-Western States in 'Can't Stand the Mid-West', a look at early South Wales punk history in 'The Wasteland of my Fathers', an interview with the authors of 'Tomorrow Is Too Late' the Toronto Hardcore book and the action gig photography of Nele Vandermaesen. Finally, all the usual review damage completes the picture, all in a packed 40 page litho printed A4 fanzine rounded off with no advertising dilution whatsoever.

Contact Welly / Artcore direct for wholesale rates.
Thanks to Aston Boss Tuneage for the help out with shipping while I'm overseas.
ARTCORE ISSUE #37 w/ TOXIC REASONS – NO PITY 7" EP - SOLD OUT

TOXIC REASONS – NO PITY 7" EP features four songs recorded for radio in 1986 during the 'Kill By Remote Control' Tour; NO PITY, WHITE NOISE, BREAK THE BANK and HARVEST, on blue vinyl with 8 page 7" booklet sleeve featuring interview, photos and lyrics. The download code has 11 bonus tracks recorded live in Newport, Wales in 1986.

ARTCORE #37 features interviews with DEAD ENDING, THE WAR GOES ON, DYSNEA BOYS, NEGATIV, BLOOD PRESSURE, RED KATE, ARMOURED FLU UNIT, UKRYTE ZALETY SYSTEMU (UZS). VAULTAGE features MADE IN BELGIUM with ZYKLOME A, HEIBEL, CAPITAL SCUM, MORAL DEMOLITION, EAR DAMAGE, BAD INFLUENCE and REPULSIVES, as well as OFFENDERS and PERDITION. Approximately 150 reviews, 36 A4 litho printed pages.


ARTCORE #36 w/ UPRIGHT CITIZENS 'FACTS & VIEWS' EP - SOLD OUT
Upright Citizens 'Facts And Views' 7" EP on red vinyl w/ 12 page 7" booklet featuring UC's 1985 U.S. Tour Report and download code. Artcore Fanzine Issue #36 / 36 pages featuring: Green Beret / Crown Court / Hot Mass / Jaded Eyes / Shot! / Flicts / Natterers / Vaultage: Upright Citizens / Dag Nasty / Descendents / Vicious Circle / Shattered Faith / Anti-System / The Art of Chris Shary / Over 100 Reviews

ARTCORE FANZINE - THIRTY YEARS: PART TWO - SOLD OUT

Artcore Fanzine's Thirty Year Anniversary Issue Part Two with the Violent Arrest - Authors Of Our Own Demise 7" EP. New six song 7" EP on orange vinyl with foldout sleeve, poster insert, badge and download code, featuring art by the legendary Vince Ransid (MDC, Raw Power etc.) and Brian Walsby (7Seconds, Nardcore etc.) The First Four Years - The Interviews 1986 - 1990 Featuring... Rites of Spring / Maggot Sandwich / Adrenalin O.D. / The Freeze / Instigators / Psycho / Corrosion of Conformity / Rest in Pieces / Culture Shock / Cowboy Killers / Urgent Fury / Shrapnel / Life Cycle / Spermbirds / Atavistic / Th'Inbred...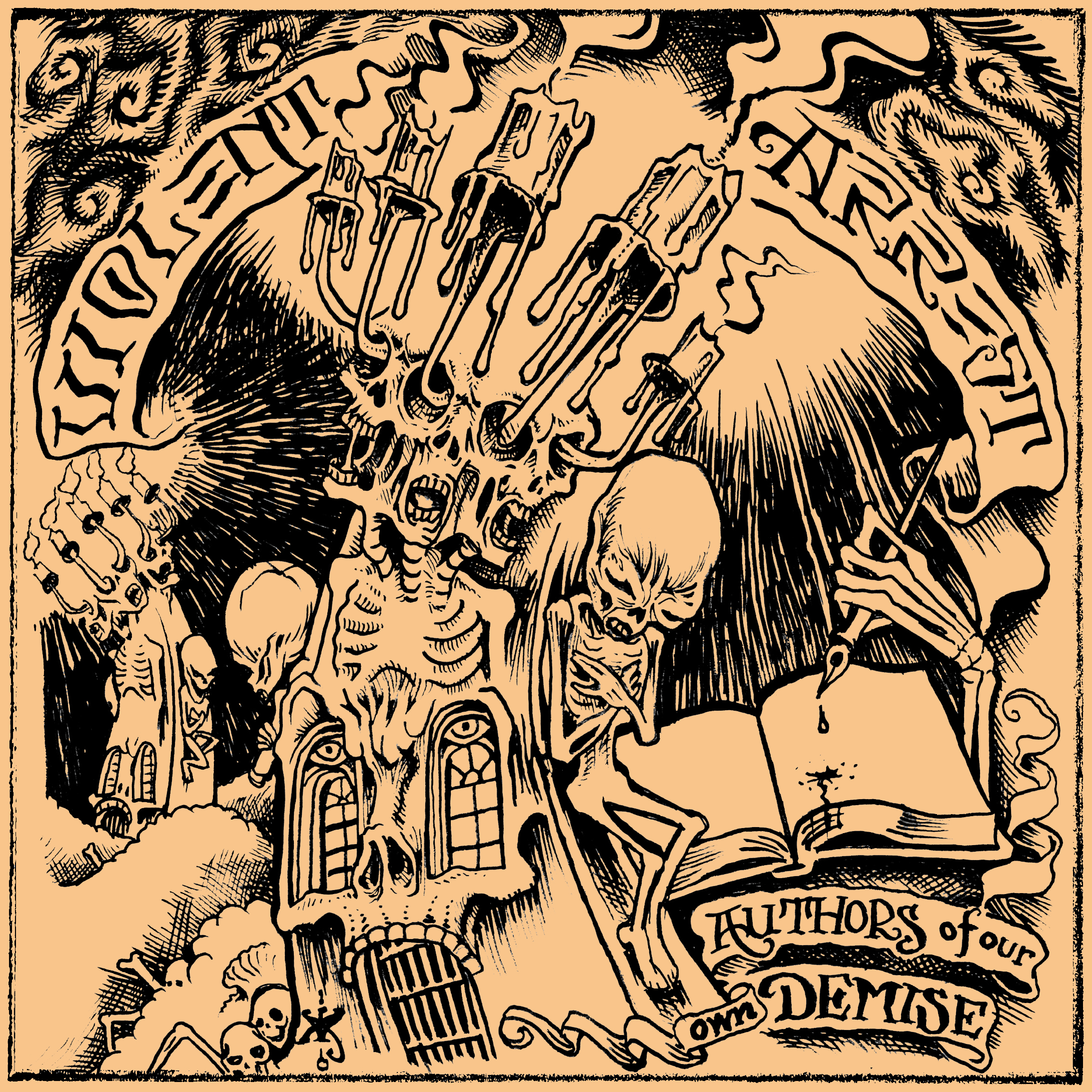 ARTCORE FANZINE - THIRTY YEARS: PART ONE - SOLD OUT

With the OI POLLOI / GRAND COLLAPSE four song 7" EP on green vinyl with foldout sleeve, die-cut inner and download code. Expanded 48 page printed fanzine featuring interviews with TAU CROSS, HENRY ROLLINS, OI POLLOI, PILLAGE, MAAILMANLOPPU, SORRY STATE RECORDS, EPIC PROBLEM, DRY HEAVES, SPOILERS and HOLIDAY. Vaultage features Jam The Controls - Killed By New Wave in Post Punk America, New York City Peace Punk by Freddy Alva, THE FIX, AGRESSION, the art of Randy 'Biscuit' Turner', reviews and more!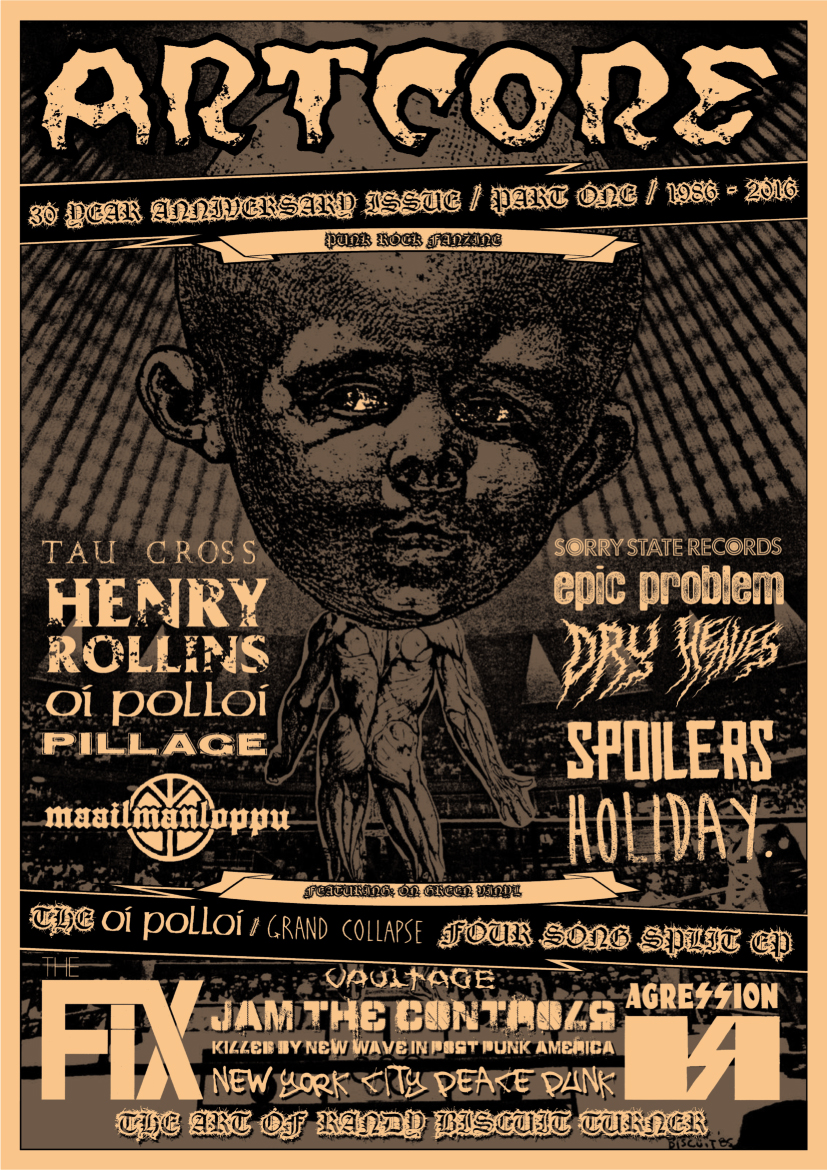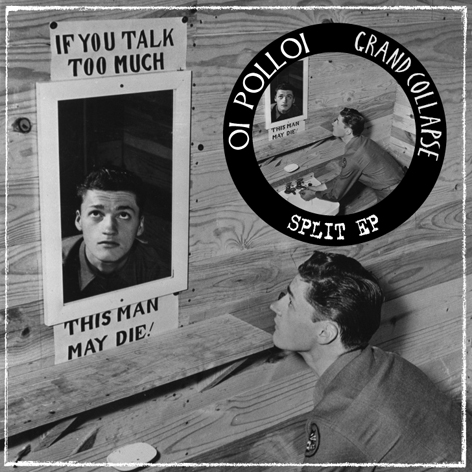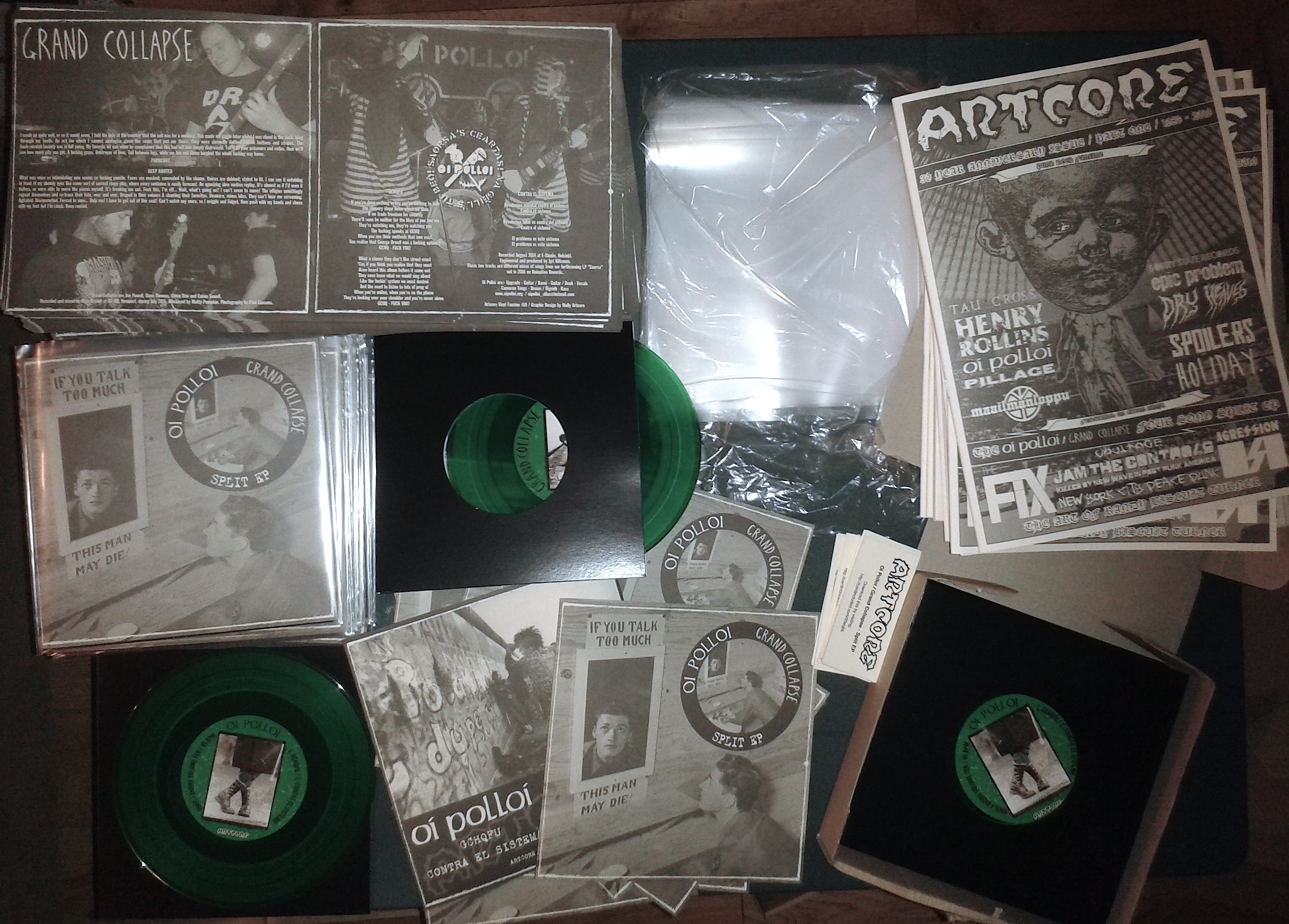 ARTCORE #33 w/ A COUNTRY FIT FOR HEROES '15 COMPILATION - SOLD OUT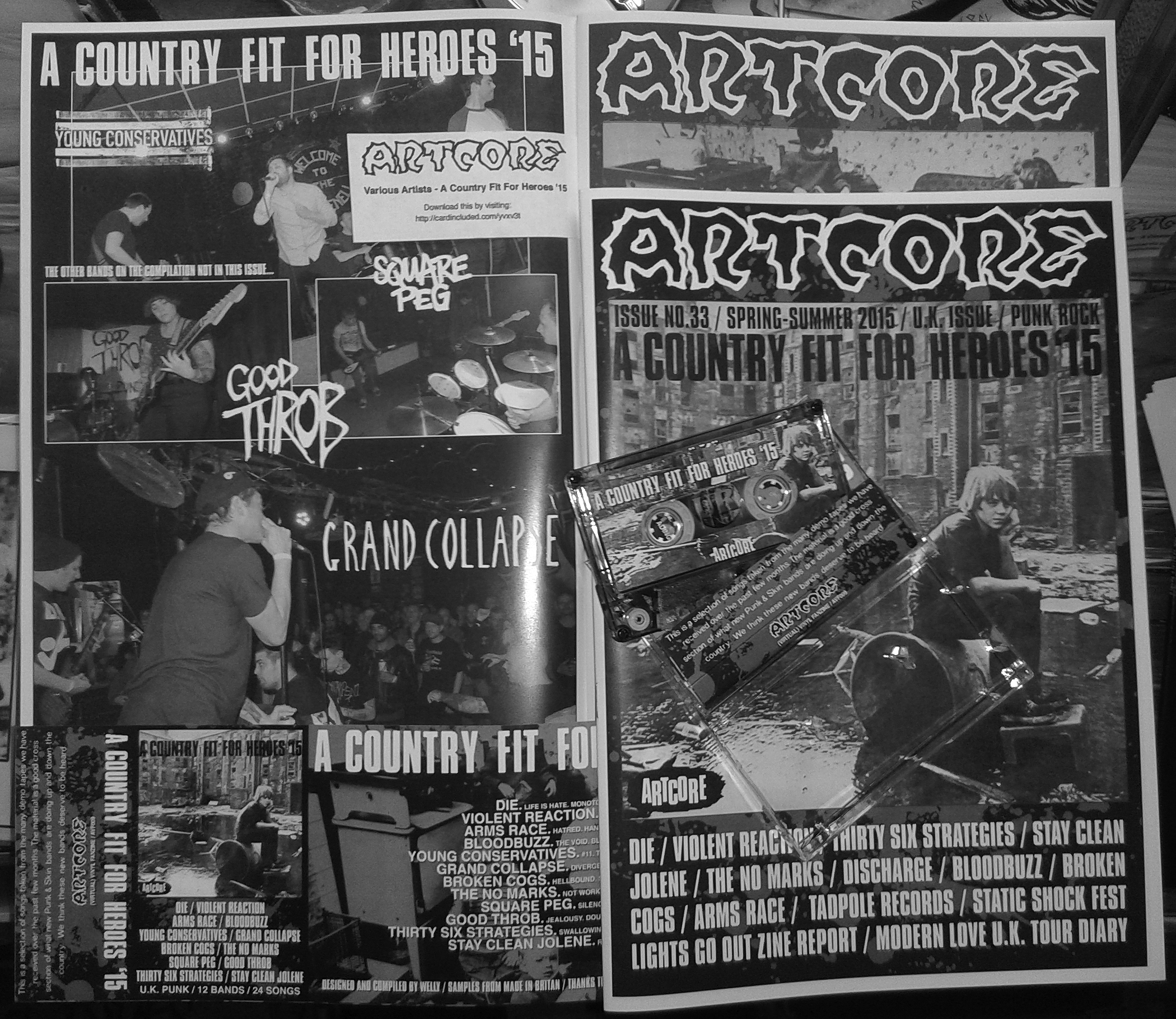 ARTCORE ISSUE No. 33 / SPRING - SUMMER 2015 / U.K. ISSUE - SOLD OUT


A special U.K. only issue featuring interviews with:
DIE / VIOLENT REACTION / THIRTY SIX STRATEGIES / STAY CLEAN JOLENE / THE NO MARKS / DISCHARGE / BLOODBUZZ / BROKEN COGS / ARMS RACE / TADPOLE RECORDS / STATIC SHOCK FEST LIGHTS GO OUT ZINE REPORT / MODERN LOVE U.K. TOUR DIARY / REVIEWS

A COUNTRY FIT FOR HEROES '15 Compilation Cassette and Download
A U.K. 45 minute compilation cassette and download featuring 24 songs by 12 U.K. bands...

Track list:
DIE: Life Is Hate / Monotony
VIOLENT REACTION: Riot / Guilty
ARMS RACE: Hatred / Hang the Scum
BLOODBUZZ: The Void / Blood Drunk
YOUNG CONSERVATIVES: #11 / The Fabled Middle Ground
GRAND COLLAPSE: Divergence / Turbid Milieu
BROKEN COGS: Hellbound / Satan Spawned It
THE NO MARKS: Not Working / Questions
SQUARE PEG: Silence / No 9
GOOD THROB: Jealousy / Double White Denim
THIRTY SIX STRATEGIES: Swallowing Swords / Treading On Angels
STAY CLEAN JOLENE: Record / Replica
1. Artcore #33 with download code and inlay only.
2. Artcore #33 with cassette, inlay and download code - SOLD OUT

Cassette version was limited to 100 copies direct from Artcore only.
All copies come with download and printed cassette sleeve.
ARTCORE ISSUE #32 WITH HUMAN THERAPY - AMERICAN DREAM 7" EP - SOLD OUT
Artcore Issue #32 comes with the Human Therapy 'American Dream' 7" EP. A forgotten Los Angeles punk classic from 1983 that combined the sweeping power chords of early T.S.O.L. with the post-punk jerky rhythms of the Minutemen, with a dose of new wave quirkiness thrown in. Here the original four song EP has been remastered and features two bonus tracks, all in an eight page cover booklet with liner notes by Tony Reflex (Adolescents) and Mick Rhodes (Human Therapy), as well as unseen photos, and you also get a download code, and it's pressed on white vinyl.


Artcore #32 itself features interviews with Zero Boys, Poison Idea, Grand Collapse, Zero Gain, Lobster Killed Me, Static Shock Records and Young Conservatives. Vaultage features the history of Adrenalin O.D. and Celibate Rifles, a brief interview with 1984 (Crucifix), an article on L.A. punk from the music press in 1979 as well as; 'How We Feel: Eighties Norwegian hardcore', a huge article by Helge Schreiber featuring So Much Hate, Angor Wat, Kafka Prosess, Life But How To Live It, Bannlyst, Svart Framtid, Barn Av Regnbuen, Fader War, Wannskraekk, Israelvis and more. All jammed into a 36 page high quality litho printed zine.


ARTCORE T-SHIRT - SOLD OUT
The cover of the new issue (without the band names) but bearing the legend; "Do We Fear Our Enemies More Than We Love Our Children". High quality print on Gildan Ultra shirts. Available in Small, Medium, Large or XL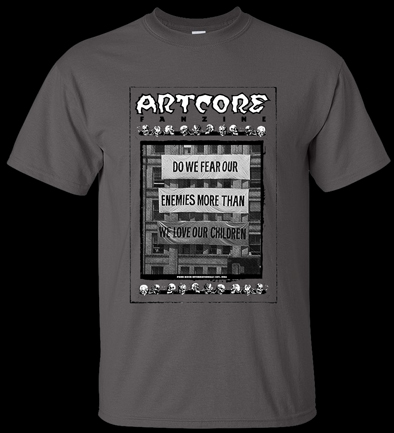 ARTCORE ISSUE #31 - SOLD OUT
WITH VIOLENT ARREST / ENDLESS GRINNING SKULLS EP - SOLD OUT!

(ON GREY VINYL IN FOLDOUT SLEEVE WITH DOWNLOAD CODE) ARTCORE FEATURES INTERVIEWS WITH: OFF!, CHUCK DUKOWSKI, ROUGH KIDS, ENDLESS GRINNING SKULLS, GOOD THROB, CONQUEST FOR DEATH, SICKOIDS, BURNING LADY, THE DOMESTICS, YHTEISKUNNAN YSTÄVÄT?, THE ART OF... VINCE 'RANSID' PACKARD. VAULTAGE: SCREAMS FROM THE GUTTER – EIGHTIES ITALIAN HARDCORE SPECIAL BY HELGE SCHREIBER FEATURING IN THEIR OWN WORDS: NEGAZIONE, CCM, RAW POWER, WRETCHED, INDIGESTI, DECLINO, KINA, PEGGIO PUNX, IMPACT, UPSET NOISE, WARFARE, EU'S ARSE, STINKY RATS, FRANTI. RANTIN' 'N' RAVIN' 'N' REVIEWIN', 40 PAGE FANZINE
ARTCORE ISSUE #30 + STATE FUNERAL 'PROTEST MUSIC' EP - SOLD OUT

State Funeral is a new band from the U.K. First and last 7" EP 'Protest Music' of political hardcore | you can hear three tracks here...STATE FUNERAL The EP has six tracks and comes in a two colour sleeve as eight page booklet, with a patch and download code. Note: The download code also includes the entire TERMINAL DECAY 20 band international compilation LP from last issue. In this issue, Artcore features interviews with the Magnificent and Boss Tuneage Records from the U.K., Nothing from Germany, Out Of Trust and No Mistake from the U.S., as well as the director of the All Ages Boston Hardcore Film; Drew Stone, and a new interview with Ron Reyes, formerly of Black Flag. After years of being somewhat overlooked by punk historians, Vaultage finally features the complete history of Government Issue. Helge Schreiber writes at length about Hardcore Holland, featuring; BGK, Deadlock, Disgust, Indirekt, Larm, Neuroot, Pandemonium and Funeral Oration. Helge also allowed us to publish the English translation of excerpts from his book 'Network Of Friends', with contributions from Ian MacKaye, Henry Rollins, Dave Dictor, John Stabb and many more. Thirty years on from the release of the Faith/Void split LP, Andy Nystrom talks to Chris Stover of Void, and Michael Hampton of Faith about the record. David Ensminger talks to members of Really Red and Mydolls, and Welly writes about Gigs of the Eighties, as well as G.I. There are of course, many reviews, columns and other stuff, as well as photos and graphics.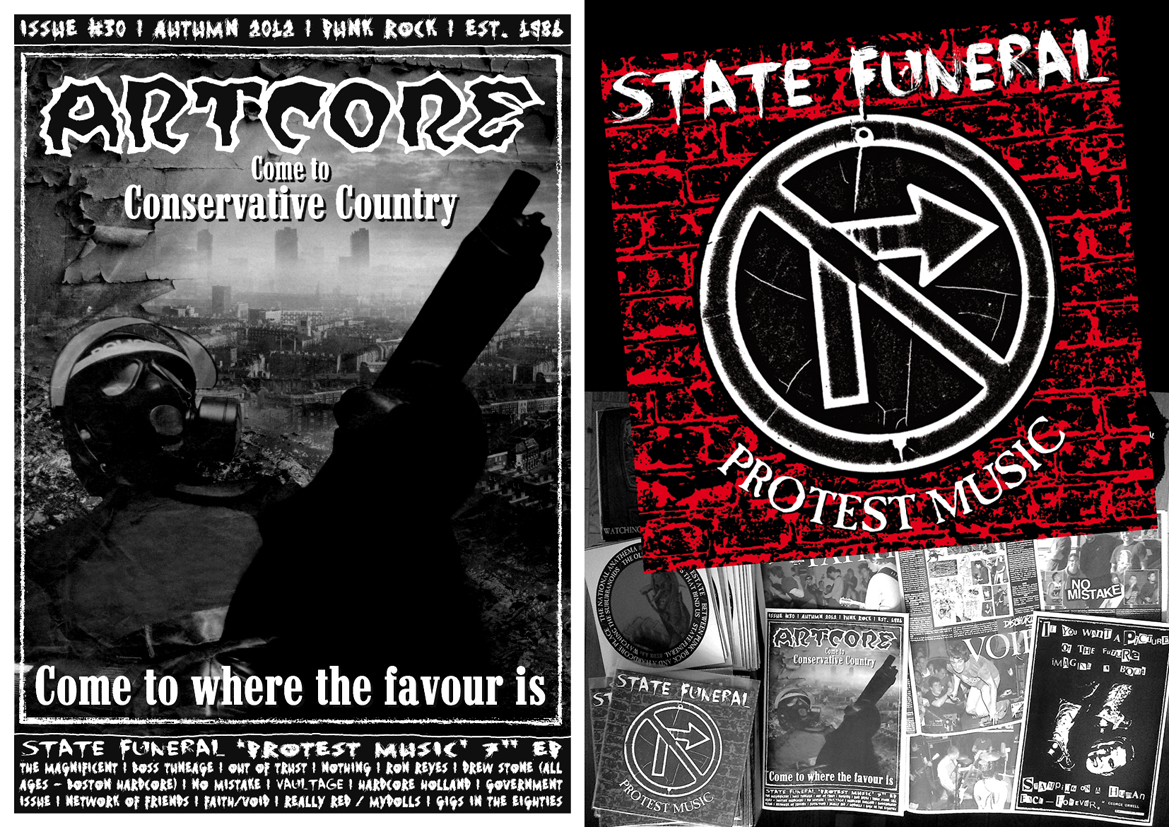 TERMINAL DECAY | ARTCORE VINYL FANZINE VOL. 5 - INTERNATIONAL COMP. LP w/ ISSUE #29 - SOLD OUT
ARTCORE FANZINE ISSUE #28 - SOLD OUT
ARTCORE #28 - SUPPORTING VIDEO FILE: CHEAP SWEATY FUN...
ISSUE #27 / 25 YEAR ANNIVERSARY SPECIAL - SOLD OUT!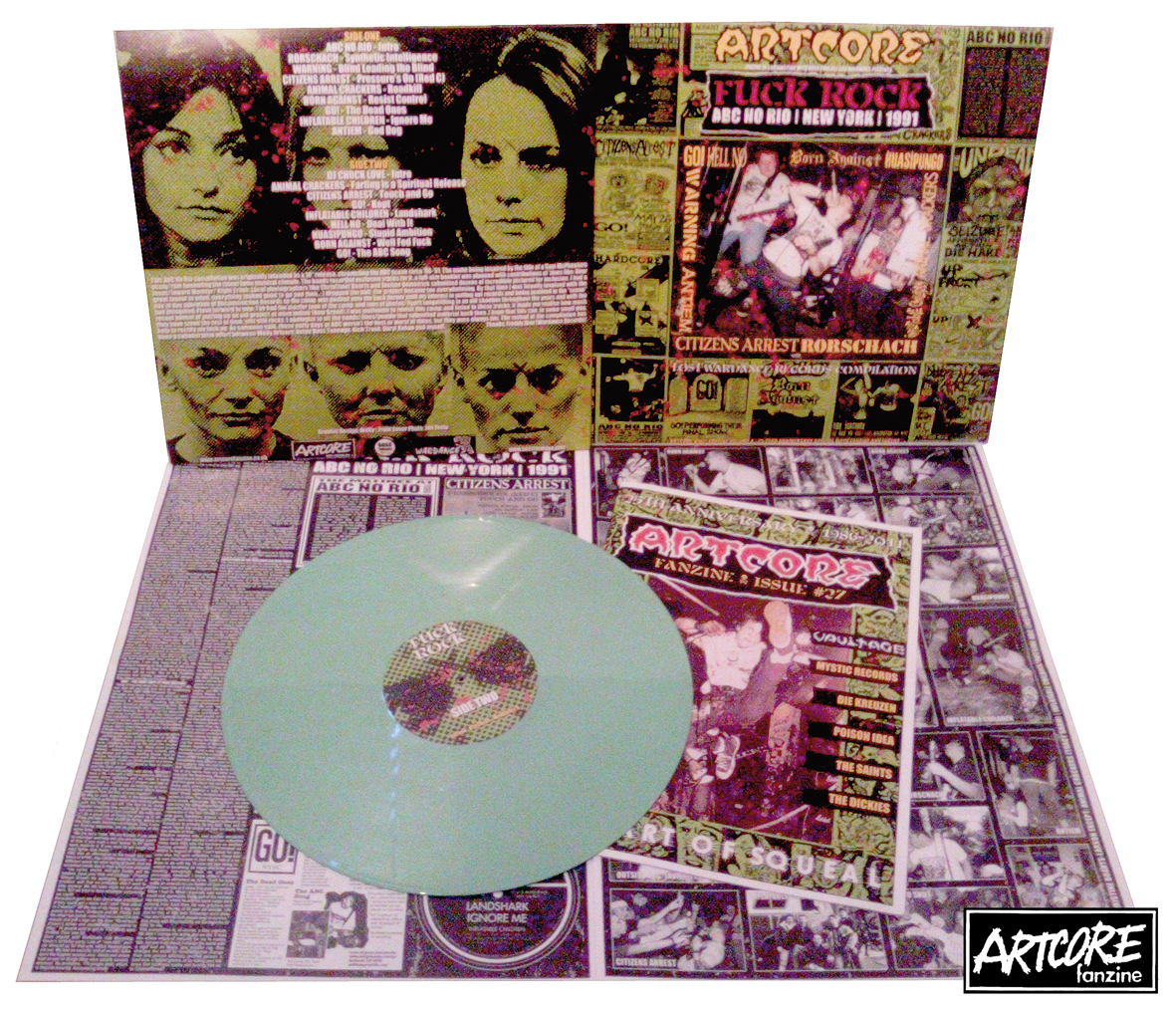 Artcore Fanzine (in association with Boss Tuneage and Wardance Records) celebrates 25 years with Artcore Vinyl Fanzine Vol.4,the lost Wardance Records compilation FUCK ROCK: ABC NO RIO NYC 1991. Originally intended for a 10" release, the project celebratingthe venue and scene in 1991 was shelved, until now, and to celebrate 20 years since it's compiling, it's finally seeing the light of day.
Unlike the Mp3 version, this has been expanded into a full LP with extra bands and tracks from the era, taken from the original master tapes, to truly complete the project. Featuring legendary DIY New York hardcore bands such as CITIZENS ARREST, BORN AGAINST, RORSCHACH, GO!, ANIMAL CRACKERS, HELL NO, HUASIPUNGO, WARNING and ANTIEM (as well as Boston's INFLATABLE CHILDREN who were regulars at the club), this 10 band, 18 track collection perfectly encapsulates the era.
On a limited press of mint fresh green vinyl, the LP comes with a large glossy foldout insert with history, anecdotes, band submissions and dozens of photos from the club, from local scene photographers such as Christine Boarts-Larson and Justine Demetrick. All housed in an high quality thick cardstock sleeve, this collection is a true collector's piece.
Inside the LP comes issue #27, the 25th anniversary issue of Artcore: 36 pages of hardcore punk rock of all eras, including interviews with D.O.A., KNUSTE RUTER, SOUTHPORT, 40 HELLS, CLASS WAR KIDS and THIS SYSTEM KILLS. Vaultage features an extensive interview with Doug Moody of MYSTIC RECORDS, as well biographies of DIE KREUZEN, POISON IDEA, THE SAINTS and THE DICKIES. The zine also features thelegendary punk artist SQUEAL, as well as extensive reviews, articles, obscure records, thoughts on 25 years, and a full colour cover.
ISSUES 1 - 26
ARTCORE IS PRINT ONLY | SOME NEWER REVIEWS APPEAR ON THE BLOG